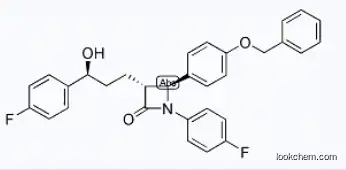 Keywords
2-Azetidinone, 1-(4-fluorophenyl)-3-[(3S)-3-(4-fluorophenyl)-3-hydroxypropyl]-4-[4-(phenylmethoxy)ph
163222-32-0
Azetidinone, (3R,4S)-1-(4-Fluorophenyl)-3-[(3S)-3-(4-Fluorophenyl)-3-Hydroxypropyl]-4-[4-(Phenylmethoxy)phenyl]-,
Quick Details
ProName: 2-Azetidinone, 1-(4-fluorophenyl)-3-[(...
CasNo: 163222-32-0
Molecular Formula: C31H27F2NO3
Appearance: off white powder
Application: 100g,500g,1kg,25kg,CAS:163222-32-0
DeliveryTime: 60days
PackAge: 1kg/5kg/25kg
Port: shang hai
ProductionCapacity: 1 Metric Ton/Day
Purity: ≥98.0%
Storage: refrigerate
LimitNum: 0 Metric Ton
Superiority
We are specialized in custom synthesis, chemical/pharmaceutical/ pesticides outsourcing and contract research.

We are committed to provide excellence in researching, manufacturing and drug discovery process.

Our research team of scientists consists of western-trained Ph.D.s with experience and capabilities in drug R&D methodologies and medicinal chemistry.
Details
| | |
| --- | --- |
| 中文名称: | (3R,4S)-1-(4-氟苯基)-3-[(3S)-3-(4-氟苯基)-3-羟基丙基]-4-[4-(苯甲氧基)苯基]-2-氮杂环丁酮 |
| 中文别名: | (3R,4S)-1-(4-氟苯基)-3-[(3S)-3-(4-氟苯基)-3-羟丙基]-4-(4-苄氧苯基)-2-氮杂环丁酮 |
| 英文名称: | Azetidinone, 1-(4-Fluorophenyl)-3-[(3S)-3-(4-Fluorophenyl)-3-Hydroxypropyl]-4-[4-(Phenylmethoxy)phenyl]-, (3R,4S)- |
| 英文别名: | 1-(4-Fluorophenyl)-3-[(3S)-3-(4-Fluorophenyl)-3-Hydroxypropyl]-4-[4-(Phenylmethoxy)pheyl]-, (3R,4S)-2-Azetidinone; 1-(4-Fluorophenyl)-3-[(3s)-3-(4-Fluorophenyl)-3-Hydroxypropyl]-4-[4-(Phenylmethoxy)Phenyl-(3r,4s)-2-Azetidinone; 1-(4-fluorophenyl)-3-[(3S)-3-(4-fluorophenyl)-3-hydroxypropyl]-4-[4-phenylmethoxy]phenyl]-(3R,4S)-2-azetidinone (intermediate of ezetimibe); (3R,4S)-1-(4-Fluorophenyl)-3-[(3S)-3-(4-fluorophenyl)-3-Hydroxypropyl]-4-[4-(phenylmethoxy)phenyl]-2-azetidinone; (3R,4S)-4-[4-(benzyloxy)phenyl]-1-(4-fluorophenyl)-3-[(3S)-3-(4-fluorophenyl)-3-hydroxypropyl]azetidin-2-one; 2-Azetidinone, 1-(4-fluorophenyl)-3-[(3S)-3-(4-fluorophenyl)-3-hydroxypropyl]-4-[4-(phenylmethoxy)phenyl]-, (3R,4S)-; 2-Azetidinone, 1-(4-Fluorophenyl)-3-[(3S)-3-(4-Fluorophenyl)-3-Hydroxypropyl]-4-[4-(Phenylmethoxy)Phenyl]-, (3R,4S)-; (3R,4S)-1-(4-Fluorophenyl)-3-[(3S)-3-(4-fluorophenyl)-3-hydroxypropyl]-4-[4-(phenylmethoxy)phenyl]-2-azetidinone (ZTB-8); (3R,4S)-4-(4-(Benzyloxy)phenyl)-1-(4-fluorophenyl)-3-((S)-3-(4-fluorophenyl)-3-hydroxypropyl)azetidin-2-one |
| CAS号: | 163222-32-0 |
| 分子式: | C31H27F2NO3 |
| 分子量: | 499.5478 |
| InChI: | InChI=1/C31H27F2NO3/c32-24-10-6-22(7-11-24)29(35)19-18-28-30(34(31(28)36)26-14-12-25(33)13-15-26)23-8-16-27(17-9-23)37-20-21-4-2-1-3-5-21/h1-17,28-30,35H,18-20H2/t28-,29+,30-/m1/s1 |
| 分子结构: | |
| 密度: | 1.271g/cm3 |
| 沸点: | 706.462°C at 760 mmHg |
| 闪点: | 381.055°C |
| 蒸汽压: | 0mmHg at 25°C |